Collision Center Services
Hail Damage Repair
Collision Center of Columbia offers in house PDR. PDR is a paintless dent repair process used to repair dents such as light to moderate hail damage and door dings. All our PDR repairs carry the same lifetime guarantee as our conventional repair process, and is approved by all insurance companies.
Starting the Repair Process
STEP 1: The repair process begins with an estimate of the work to be done.
STEP 2: Once approval for repairs have been received, a date will be scheduled for repairs to commence.
STEP 3: We then disassemble the vehicle and take a closer look at the damaged areas.
STEP 4: If necessary, a supplement report is written and sent to you or the insurer for approval. Any additional parts needed will then be ordered.
STEP 5: We will provide you with an estimated completion date as we begin the body repair process.
Body Repairs Process
STEP 1: Structural and body repairs on the vehicle are begun and the vehicle is set up on Unibody Repair Equipment.
STEP 2: We prepare and install new panels that are primed, sealed and protected against corrosion.
STEP 3: All work is inspected and tested before being declared ready for painting.
STEP 4: Once the vehicle is deemed ready for painting we will call with a confirmed completion date. The vehicle then enters the paint & delivery process.
Ready for Paint & Delivery
STEP 1: After being pressure washed and cleaned, the vehicle is prepped, primed, sanded and sealed.
STEP 2: Before being placed in our down-draft spray booth oven the vehicle will be taped, bagged, masked and blown off.
STEP 3: In the spray booth, the vehicle undergoes a multi-step refinishing process using an acrylic urethane paint system.
STEP 4: The vehicle will be re-assembled, the wheels aligned, air conditioning re-installed, interior detailed and inspected.
STEP 5: We will test drive the vehicle to be sure everything is working properly.
STEP 6: Once repairs are all completed the owner is notified with confirmation for pickup.
When you first arrive, the team at the Collision Center of Columbia will perform an estimate on your vehicle to get the repair process started.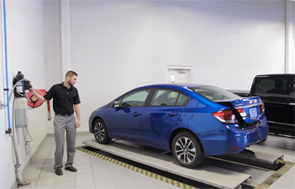 After the estimate has been performed your vehicle is then set up on the Unibody Repair Equipment.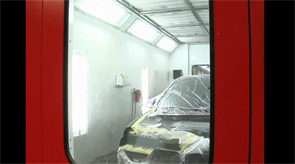 Before being placed in our down-draft spray booth oven the vehicle will be taped, bagged, masked and prepared for refinishing.